Top Ten Books on my Autumn TBR
This is a weekly Meme hosted by The Broke and the Bookish Where Fellow Book Bloggers Share Their Top Ten of The Given Subject.
Ten Ten Books on my Autumn TBR
1.
The Sword of Summer
(Magnus Chase and the Gods of Asgard #1)
Rick Riordan
Magnus Chase has always been a troubled kid. Since his mother's mysterious death, he's lived alone on the streets of Boston, surviving by his wits, keeping one step ahead of the police and the truant officers. One day, he's tracked down by a man he's never met—a man his mother claimed was dangerous. The man tells him an impossible secret: Magnus is the son of a Norse god. The Viking myths are true. The gods of Asgard are preparing for war. Trolls, giants and worse monsters are stirring for doomsday. To prevent Ragnarok, Magnus must search the Nine Worlds for a weapon that has been lost for thousands of years. When an attack by fire giants forces him to choose between his own safety and the lives of hundreds of innocents, Magnus makes a fatal decision. Sometimes, the only way to start a new life is to die.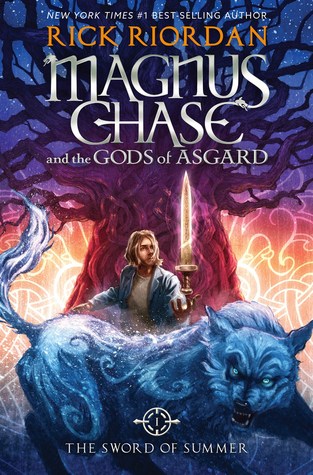 2. Harry Potter and the Philosopher's stone

(Illustrated Edition Harry Potter #1)
J. K. Rowling
Prepare to be spellbound by Jim Kay's dazzling depiction of the wizarding world and much loved characters in this full-colour illustrated hardback edition of the nation's favourite children's book – Harry Potter and the Philosopher's Stone. Brimming with rich detail and humour that perfectly complements J.K. Rowling's timeless classic, Jim Kay's glorious illustrations will captivate fans and new readers alike. When a letter arrives for unhappy but ordinary Harry Potter, a decade-old secret is revealed to him that apparently he's the last to know. His parents were wizards, killed by a Dark Lord's curse when Harry was just a baby, and which he somehow survived. Leaving his unsympathetic aunt and uncle for Hogwarts School of Witchcraft and Wizardry, Harry stumbles upon a sinister mystery when he finds a three-headed dog guarding a room on the third floor. Then he hears of a missing stone with astonishing powers, which could be valuable, dangerous – or both. An incredible adventure is about to begin!
3. Carry On (

A

Spin-off from Fangirl. Cath's Fanfiction of Simon Snow)
Rainbow Rowell
Rainbow Rowell continues to break boundaries with Carry On, an epic fantasy following the triumphs and heartaches of Simon and Baz from her beloved bestseller Fangirl. Simon Snow just wants to relax and savor his last year at the Watford School of Magicks, but no one will let him. His girlfriend broke up with him, his best friend is a pest, and his mentor keeps trying to hide him away in the mountains where maybe he'll be safe. Simon can't even enjoy the fact that his roommate and longtime nemesis is missing, because he can't stop worrying about the evil git. Plus there are ghosts. And vampires. And actual evil things trying to shut Simon down. When you're the most powerful magician the world has ever known, you never get to relax and savor anything. Carry On is a ghost story, a love story, a mystery and a melodrama. It has just as much kissing and talking as you'd expect from a Rainbow Rowell story — but far, far more monsters.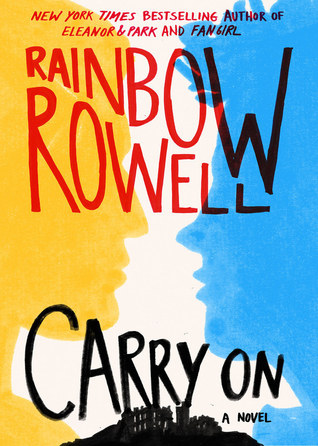 4. The Cage

(The Cage #1)
Megan Shepherd
The Maze Runner meets Scott Westerfeld in this gripping new series about teens held captive in a human zoo by an otherworldly race. From Megan Shepherd, the acclaimed author of The Madman's Daughter trilogy. When Cora Mason wakes in a desert, she doesn't know where she is or who put her there. As she explores, she finds an impossible mix of environments—tundra next to desert, farm next to jungle, and a strangely empty town cobbled together from different cultures—all watched over by eerie black windows. And she isn't alone. Four other teenagers have also been taken: a beautiful model, a tattooed smuggler, a secretive genius, and an army brat who seems to know too much about Cora's past. None of them have a clue as to what happened, and all of them have secrets. As the unlikely group struggles for leadership, they slowly start to trust each other. But when their mysterious jailer—a handsome young guard called Cassian—appears, they realize that their captivity is more terrifying than they could ever imagine: Their captors aren't from Earth. And they have taken the five teenagers for an otherworldly zoo—where the exhibits are humans. As a forbidden attraction develops between Cora and Cassian, she realizes that her best chance of escape might be in the arms of her own jailer—though that would mean leaving the others behind. Can Cora manage to save herself and her companions? And if so . . . what world lies beyond the walls of their cage?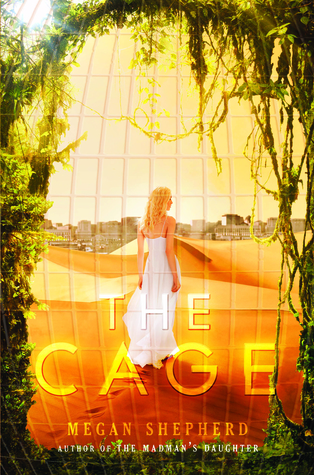 5. The Grave of Lainey Grace
Aaron Galvin
Every year, when the last leaf of summer falls, roses are laid at the grave of Lainey Grace. No one knows who steals into the cemetery after the gates are closed and locked, least of all the head groundskeeper, Bob. When Bob is warned he'll be fired if the rose-givers sneak in again, his ten-year-old granddaughter, Briar Ann Wade, decides to find out who the perpetrators are and why they only come each fall. Briar discovers the answer to the mystery only to learn, as her grandpa says, grief and love take many forms…and there is healing in both.
6. Days of Throbbing Gristle
Kevin Cole
Does Heaven know you're miserable now? It's 1987. Sam Henry Hay, a 17-year-old exchange student from Sheffield, hops into Texas, USA, with one burning ambition: Manipulate his gullible host parents into funding his university, and leave his dead-end life in Yorkshire behind. But is Sam manipulating America or America manipulating Sam? The clever lad schmoozes his way into many a bed and purse, yet can't get rid of anyone. He executes careful plans, only to watch them disastrously fall apart. Worst of all, this once proud nihilist watches in horror as he reveals a conscience, in a world growing ever darker around him. Days of Throbbing Gristle is not your typical teenage tale. It's a razor-slashing journey through a time and place that really was as bad as you've heard. For some, high school is the best time in their lives. For others, it's a miracle they make it to the other side.
7. Percy Jackson and the Greek Heroes

(Percy Jackson and the Olympians Companion Book)
Rick Riordan
Who cut off Medusa's head? Who was raised by a she-bear? Who tamed Pegasus? It takes a demigod to know, and Percy Jackson can fill you in on the all the daring deeds of Perseus, Atalanta, Bellerophon, and the rest of the major Greek heroes. Told in the funny, irreverent style readers have come to expect from Percy, ( I've had some bad experiences in my time, but the heroes I'm going to tell you about were the original old school hard luck cases. They boldly screwed up where no one had screwed up before. . .) and enhanced with vibrant artwork by Caldecott Honoree John Rocco, this story collection will become the new must-have classic for Rick Riordan's legions of devoted fans--and for anyone who needs a hero. So get your flaming spear. Put on your lion skin cape. Polish your shield and make sure you've got arrows in your quiver. We're going back about four thousand years to decapitate monsters, save some kingdoms, shoot a few gods in the butt, raid the Underworld, and steal loot from evil people. Then, for dessert, we'll die painful tragic deaths. Ready? Sweet. Let's do this.
8. The Kill Order

(The Maze Runner #0.5)
James Dashner
Before WICKED was formed, before the Glade was built, before Thomas entered the Maze, sun flares hit the earth and mankind fell to disease. Mark and Trina were there when it happened, and they survived. But surviving the sun flares was easy compared to what came next. Now a disease of rage and lunacy races across the eastern United States, and there's something suspicious about its origin. Worse yet, it's mutating, and all evidence suggests that it will bring humanity to its knees. Mark and Trina are convinced there's a way to save those left living from descending into madness. And they're determined to find it—if they can stay alive. Because in this new, devastated world, every life has a price. And to some, you're worth more dead than alive.
9. The 100

(The Hundred #1)
Kass Morgan
No one has set foot on Earth in centuries -- until now. Ever since a devastating nuclear war, humanity has lived on spaceships far above Earth's radioactive surface. Now, one hundred juvenile delinquents -- considered expendable by society -- are being sent on a dangerous mission: to recolonize the planet. It could be their second chance at life...or it could be a suicide mission. CLARKE was arrested for treason, though she's haunted by the memory of what she really did. WELLS, the chancellor's son, came to Earth for the girl he loves -- but will she ever forgive him? Reckless BELLAMY fought his way onto the transport pod to protect his sister, the other half of the only pair of siblings in the universe. And GLASS managed to escape back onto the ship, only to find that life there is just as dangerous as she feared it would be on Earth. Confronted with a savage land and haunted by secrets from their pasts, the hundred must fight to survive. They were never meant to be heroes, but they may be mankind's last hope.
10. The Games
Ted Kosmatka
Jurassic Park meets The Hunger Games in this stunning new high-energy, high-concept tale from first-time novelist Ted Kosmatka, a Nebula Award and Theodore Sturgeon Memorial Award finalist.
NAMED ONE OF THE BEST BOOKS OF THE YEAR BY PUBLISHERS WEEKLY
Set in an amoral future where genetically engineered monstrosities fight each other to the death in an Olympic event, The Games envisions a harrowing world that may arrive sooner than you think. Silas Williams is the brilliant geneticist in charge of preparing the U.S. entry into the Olympic Gladiator competition, an internationally sanctioned bloodsport with only one rule: no human DNA is permitted in the design of the entrants. Silas lives and breathes genetics; his designs have led the United States to the gold in every previous event. But the other countries are catching up. Now, desperate for an edge in the upcoming Games, Silas's boss engages an experimental supercomputer to design the genetic code for a gladiator that cannot be beaten. The result is a highly specialized killing machine, its genome never before seen on earth. Not even Silas, with all his genius and experience, can understand the horror he had a hand in making. And no one, he fears, can anticipate the consequences of entrusting the act of creation to a computer's cold logic. Now Silas races to understand what the computer has wrought, aided by a beautiful xenobiologist, Vidonia João. Yet as the fast-growing gladiator demonstrates preternatural strength, speed, and—most disquietingly—intelligence, Silas and Vidonia find their scientific curiosity giving way to a most unexpected emotion: sheer terror.
Labels: Top Ten Tuesday